Massage & Spa Treatments From
Alpine Therapeutic Massage
Massage Services Provided by Phoenix #(MA4392)
To Schedule a Massage Call Her At: 253-838-3336
Advanced, World Class, Image Enhancing
Massage Treatments!
Body Masks & Wraps: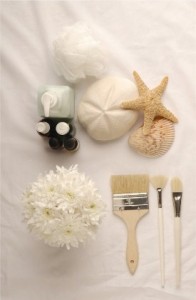 Photo Courtesy of ABMP
With all masks and wraps you are exfoliated first, your chosen treatment is applied, you are wrapped in comforting warmth for a rest period, then the product is removed with warm towels, finally a moisturizer is applied leaving your skin rejuvenated, healthy, and soft.
Mask Treatments:
Hydrating Body Mask:
You will be completely hydrated and soft after this very emollient body wrap lotion is applied. Whether you feel dry in the winter or summer, you will appreciate this very skin softening treatment.
60 min. $75.
Peppermint Yogurt Body Mask:
Revive your mind and skin. Peppermint purifies, uplifts and invigorates.

Benefits: Softens skin, restores the skin's natural acid mantle, rejuvenates, and removes impurities.
60 min. $75.
Massage Options:
East Indian Head and Face Massage with Aromatherapy:
Now you can enjoy centuries old relaxing techniques handed down from mother to children.
I have seldom experienced anything more relaxing than these amazing techniques

. People tell me everyday that their favorite part of getting their haircut is the scalp massage at the shampoo bowl and this goes far beyond that experience!

This technique is by far the most relaxing, indulgent treatment I have ever experienced for relaxing the head, face, and shoulders.

Your scalp with be thoroughly massage with an Aromatherapy Oil blend, and your face will be treated to both relaxing and invigorating strokes, including acupressure points for relaxing and rejuvenating the face.

Your neck and shoulder will also get some attention with nice kneading strokes to relax and soothe them.
The best relaxation for your head and face ever!
1/2 Hour $55.
Relaxation Spa Massage:
Escape to a "Relaxation Oasis" Your senses will be gently soothed and enhanced. An eclectic blend of Swedish and other relaxation massage techniques.

You'll feel relaxed and pampered after this special treatment.
60 min. $75 .
90 min. $110.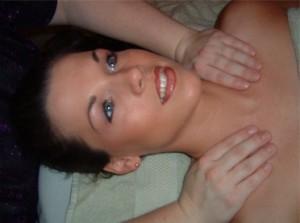 Aromatherapy enhances the effects of the massage and provides a sense of relaxation and relief from stress, muscle tension, and pain.
Phoenix has been a certified Aromatherapist since 1993, and has exceptional experience with custom aromatherapy blends.
Benefit: You receive an exceptional spa experience!
Aromatherapy Hot Stone Massage:
A fabulously relaxing experience.

Warm stones melt away tension while Aromatherapy soothes your mind and body.

Precious Stone placement assists in balancing Chakras.
90 min. $135
Pictured Below is the Precious Stones Chakra Balancing Treatment. Available as an add-on treatment. See pricing for Spa Menu A La Carte Below.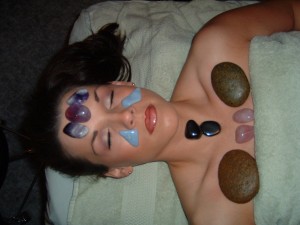 Hot Stone Massage:
May be the most profoundly relaxing massage you ever experience. You might wonder how hot stones would be relaxing. Well, you'll just have to try it. Words cannot adequately describe the level of indulgent tranquility. Definitely a hands on experience you'll want to try!
90 minutes for $125.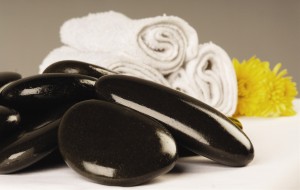 Chocolate Spa Treatments:
Indulge your senses in pure bliss. Good for your body too!
Chocolates scientific latin name-Theobroma Cacoa means "Food of the Gods." Chocolate contains the chemical phenylethylamine that's released in our body when we fall in love. Now you can enjoy the sensory delights of chocolate at the spa.
Let the delightful aroma, texture, and anti-oxidant properties of chocolate soothe your mind and body, lower stress and anxiety, and trigger euphoria. One famous Spa (Hershey) offers exlusive chocolate spa treatments. Clients have to schedule monthis in advance.
Avoid the crowd and enjoy a chocolate escape in your own neighborhood.
Recent scientific research shows that your brain responds to chocolate by producing endorphins. Chocolate contains anandamide that triggers a very mild "high" and natural ingredients that inhibit the breakdown of this substance, prolonging a sense of well-being. It also contains tryptophan, an essential amino acid that increases seratonin, an anti-depressent/stress reducer. Theobromine in chocolate acts as a diuretic reducing excess body fluid. Catchins, powerful anti-oxidants, are found in larger quantities in chocolate than black tea. Chocolate's phenols may help reduce heart disease.
Now that you know how good it is, let your body absorb it with this special treatment while enjoying the benefits of massage as well.
Enjoy chocolate all over you! Of course you get to enjoy eating it too.
Chocolate Oatmeal "Cookie" Scrub
This "cookie" scrub is a tantalizing treat to leave you feeling fabulously sleek. Oatmeal softens skin, while egg tones, oil moisturizes and smooths, while cocoa adds anti-oxidant properties and vanilla adds a euphoric aroma.
$45.
Chocolate Mint Yogurt Wrap
Relax and revive your mind and skin. Peppermint uplifts and invigorates. Yogurt softens, purifies, and restores the skin's natural protective barrier. You'll feel softer and waft a fabulous chocolate aroma for hours. (Wafting is good!)
$75.
Hot Cocoa Foot Bath and Foot Massage
A sensory experience like no other. Soak your feet in skin softening warm milk, cocoa, and essential oils. Next enjoy the the health promoting effects of foot reflexology. Finally your feet will be moisturized with cocoa mint lotion.
$45
Cocoa Mint Massage
A Relaxing full body massage with a cocoa mint massage lotion known for its skin softening properties that will tantalize your senses. This is relaxation at its finest.
$75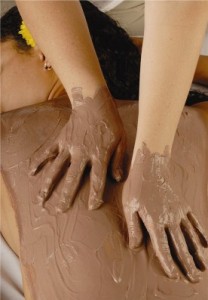 Body Polishes & Signature Scrubs:
"The Harem" Ultimate Smoothing Special:
An exotic five star treatment! This exotic treatment was reportedly used to prepare silky smooth, lusciously scented skin for the chosen woman of the harem.
Treat yourself like royalty, get a luxurious treatment with precious essential oils of frankincense, myrrh and sandalwood, combined with spices in a special formula to polish your skin, leaving you smooth, and smelling extraordinary.
Includes a cleanse, massage, polish, aromatherapy mist, & moisturizer.
90 min. for $125
Other Spa Specialties:
Hot Foot Bath & Foot Massage:
You'll love this treatment, especially if your feet are tired after standing. First I'll wake up your feet in a foot bath with essential oils.

Then I'll treat your feet to reflexology to increase the healthy functioning of your body. Finally,

Relieves tired aching feet!
30 Min. $55.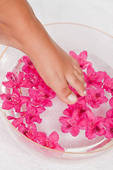 Foot Reflexology-More than just a Foot Rub– This is for your health!
Reflexology is a science and an art based on the principle that there are reflexes on the foot that map out the entire body system. By stimulating these reflexes we can affect a change in a distant part of the body and create healthy balance. Evidence of therapeutic foot treatments or" ancient reflexology" dates back 5000 years and is found on hieroglyphs on the tomb of an Egyptian physician.
Benefits of Reflexology:
Reduces Stress and creates deep relaxation

Stimulates your body's natural healing mechanism

Cleanses the body of toxins and impurities

Balances the whole mind/body/organ system

Revitalizes Energy

Preventive health and wellness care

Stimulates creativity and productivity

Feels Great!
To Design Your Own Spa Package

Choose From the Following Items and Build A Custom Package"
Spa Menu— A La Carte
Hot Aromatherapy Foot Bath– 10 min $15.

With Foot Massage– 15 min. $30.

Aromatherapy Facial Steam- $15.

Hot Stone Aromatherapy Facial Massage 15 minutes $15.

2 oz custom massage oil blend $15.

Scalp treatment with massage 15 minutes $15.
Hot Stone Massage:
90 minutes $125.

Aromatherapy Hot Stone Massage $135.
Face and Body Treatments:
Paraffin Hand Bath $15.

Seated Massage with Aromatherapy -15 minutes $20 or 30 minutes $45.

Aromatherapy Dry Brushing for the Body-Stimulates the Lymphatic System -$25

Slough off dead skin cells

Increase blood circulation for improved cellular nutrition

Increase Lymphatic Flow for detoxification and

Decrease excess water retention

Slimming Essential Oils are used in this treatment to increase the effect.
Masks & Wraps: 60 minutes
Includes mini massage, exfoliation, moisturizer, and aromatherapy
Hydrating Mask Wrap-$75

Peppermint Yogurt Mask- $75.

Aromatherapy Polishes & Scrubs: $75
Foot Reflexology
30 minutes $45

60 minutes $75
Relaxation Massage:
90 minutes-$110

60 minutes- $75.

30 minutes $45.
Holographic Memory Release

30 minutes $50 per treatment in a series of 6

Interactive Trauma Relief-

60 min $110.
Massage For The Face
60 minutes $125

80 minutes $150
Accupressure Massage Facelift
Precious Stones Chakra Balancing Treatment
$15. Add on to any treatment
Chocolate Spa Specialties:
Chocolate Oatmeal cookie scrub:-$45.

Chocolate Mint Yogurt Wrap: $75

Hot Cocoa Foot Bath & Foot Massage $45

Chocolate Mint Massage: $65
Other Ala Carte Options:
Aromatherapy Foot Bath $15

Exfoliating Scrub $15 each for foot or hands

Hydrating Mask $15 each for foot or hands

Hydrating Moisture Treatment $6 each for foot or hands

Mini Massage $15 each for foot or hands

Paraffin Dip $15

Facial Steam $15.

Facial Hot Towel Treatment $5

Add 1/2 Hour Massage to Treatment $45.00
Contact Phoenix at: 253-838-3336
AlpineTherapeuticMassage@gmail.com