The scorching Summer is over. It was hard on us. The months of Global Pandemic have kept us restricted in many ways, anxious, and some of us grieving,
It's time for some self-care and healing
I like to do my part in helping the world be a healthier, happier, more enjoyable place. I am holding a 9-11 Special Event, designed especially to help do just that.
Saturday 9-11 Special Healing Event-"Freedom to Heal"
Attached is the flyer for it. Join me to begin positive change in your life.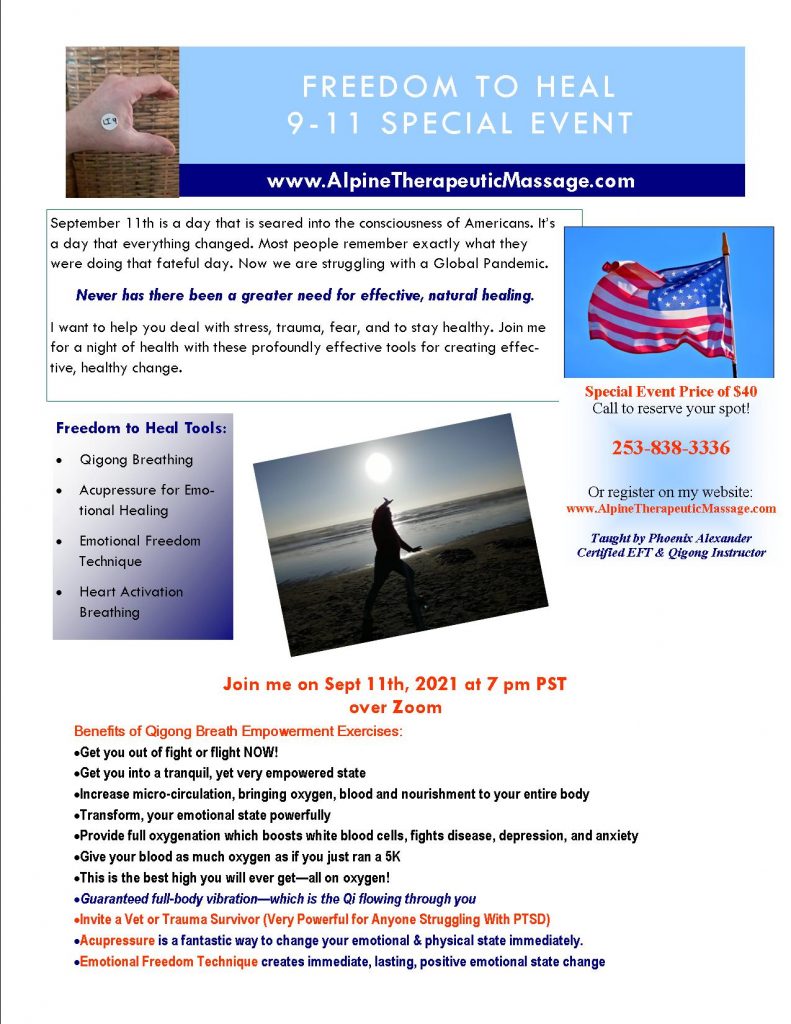 Registration is Here: Click on the Button to buy the Seminar
Many of you attended my event in person on 9-11-19 before the Covid outbreak. I am pleased to hold this event live over Zoom so everyone stays healthy and many more people can participate.
When you register you will be sent a link before the event. The event will be recorded so that if you can't attend you can still get the recorded video and the benefits will not be diminished.
I have expanded the curriculum to offer a variety of immediate state changing tools to get out of a disempowering place to one of empowerment and lasting healing and change. I am using proven healing tools that you can implement in your daily life to improve your wellbeing.
Freedom to Heal Tools:
Qigong Breathing

Acupressure for Emotional Healing

Emotional Freedom Technique

Heart Activation Breathing
Refer a Friend and both of you get an Audio File "Releasing Fearful Thoughts Meditation"
Purchase Freedom To Heal here
Join us for Whole Body Renewal
I have joined healing forces with another Hypnotherapist and Reiki Practitioner to bring you a truly outstanding healing event for Sept 18th.
This half day seminar will be a catalyst for many positive changes you will feel immediately.
Featuring these Healing Tools:
Flyers are attached:
Please forward this Flyer or link to as many people as you can.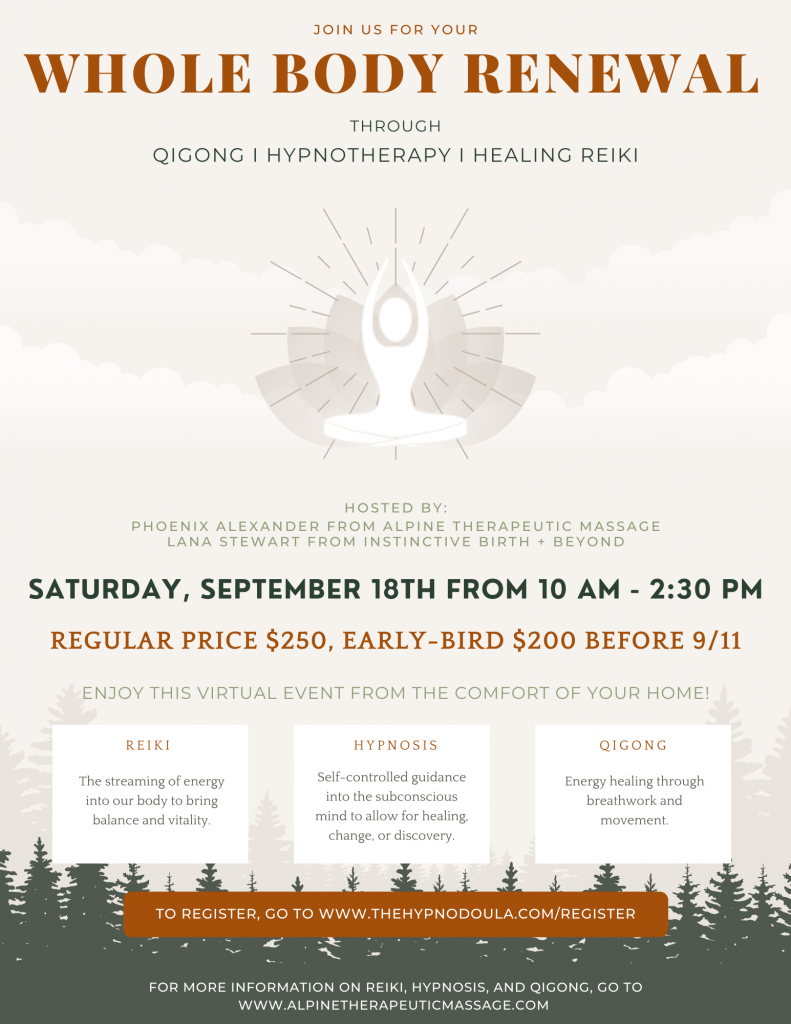 September Spa Specials:
If you have been fully vaccinated I welcome you back to my spa. I am taking extra precautions to maintain my health as I am immune-compromised. Therefore in person treatments are done more carefully. I am Fully Vaccinated.
Take time to boost your ability to stay healthy and resist illness with all the healthy tools I offer. You are worth it!
Call now to schedule an appointment. 253-838-3336